On Charles Richet's
The Traité de métapsychique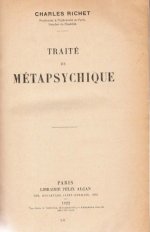 In 1922 Richet presented to the French Academy of Sciences, his celebrated Traité de métapsychique. In his presentation, Richet said he was summarizing methodically many observations and tests conducted by men such as William Crookes and William James.

Richet hoped that the "irregular and singular facts" acertained by these and other men deserved deep study, in contrast to "sarcasms and silent disdain" (Mémoires et Communications, 1922, p. 429). The phenomena discussed, he carefully stated for his conservative audience, "are new; they are inhabitual; they are difficult to classify" (p. 430), but they did not contradict any scientific facts.

This was the best known book Richet published on psychical research. It was translated into languages such as German, and Spanish. The English translation, entitled Thirty Years of Psychical Research (which can be downloaded as a text version by clicking this link), appeared in 1923, translated from the second French edition. The book was extremely influential in France, and in parts of Europe, commanding longer than usual reviews in specialized journals such as Luce e Ombra (Bozzano, 1922) and the Proceedings of the Society for Psychical Research (Lodge, 1923), in which Richet was both praised and criticized on several grounds.

Richet's book, a true treatise, summarized and referenced a myriad of spontaneous cases, experiments, and mediumistic studies. He grouped the mental, or subjective phenomena, under the term of crypthesthesia, by which he meant "a special and mysterious faculty which reveals certain facts, past, present, or future, that the senses are unable to supply" (Richet, 1923, p. 64). This included what other authored referred to as clairvoyance and telepathy. In contrast objective metapsychics included telekinesis and ectoplasms, which he conceptualized as "degrees of the same thing—the objectification or projection of an intelligent mechanical energy" (p. 489).

He concluded the following:

1. There is in us a faculty of cognition that differs radically from the usual sensorial faculties (Cryptesthesia).


2. There are, even in full light, movements of objects without contact (Telekinesis).


3. Hands, bodies, and objects seem to take shape in their entirety from a cloud and take all the semblance of life (Ectoplasms).


4. There occur premonitions that can be explained neither by chance nor perspicacity, and are sometimes verified in minute detail.


Such are my firm and explicit conclusions. I cannot go beyond them (Richet, 1923, p. 599).

The book's table of content, taken from the English translation, gives a good idea of the topics discussed:


BOOK I: CONCERNING METAPSYCHICS IN GENERAL

(1. Definition and Classification; 2. Is There a Science of Metapsychics?; 3. Historical Summary; 4. Mediums)

BOOK II: SUBJECTIVE METAPSYCHICS

CHAPTER I. ON SUBJECTIVE METAPSYCHICS IN GENERAL

(1. The Limits of Psychic and Metapsychic Science; 2. Chance and Mathematical Probability in Metapsychic Facts; 3. Concerning Errors of Observation)

CHAPTER II. ON CRYPTESTHESIA (LUCIDITY) IN GENERAL

(1. Definition and Classification; 2. Connection of Cryptesthesia with Lucidity and Telepathy; 3. Phenomena of Normal Psychology Having Only the Semblance of Cryptesthesia; 4. Classification of the Modes of Cryptesthesia)

CHAPTER III. EXPERIMENTAL CRYPTESTHESIA

(1. Cryptesthesia in Normal Individuals; 2. Cryptesthesia Under Hypnotism and Magnetic Treatment; 3. Cryptesthesia Under Hypnotism; 4. Cryptesthesia Under Spiritist Conditions; 5. Cryptesthesia Among Sensitives; 6. Conclusions on Experimental Cryptesthesia; 7. On the Identification of Spiritist Personalities; 8. Xenoglossis)

CHAPTER IV. THE DIVINING-ROD

(1. Historical; 2. Summary of the Facts; 3. Concerning Rhabdic Force; 4. Deductions from the Point of View of Cryptesthesia)

CHAPTER V. METAPSYCHISM IN ANIMALS

CHAPTER VI. SPORADIC CRYPTESTHESIA

(A. Monitions; 1. Classification and Definition; 2. Conditions Necessary that Monitions Should Be Regarded as Such; 3. Conditions Under Which Monitions Occur; 4. The Symbolical Form Taken by Monitions; 5. Monitions and the Telepathic Hypothesis; 6. On the Frequency of Monitions)

CHAPTER VII. PREMONITIONS

(1. On Premonitions in General; 2. Auto-Premonitions; 3. Premonitions, Properly So-called; 4. Conclusion)

BOOK III: OBJECTIVE METAPSYCHICS

CHAPTER I. ON OBJECTIVE METAPSYCHICS IN GENERAL

CHAPTER II. MOVEMENTS OF OBJECTS-TELEKINESIS

(a. Table-Movements; b. On Some Cases of Experimental Telekinesis; c Of Noises and Raps; d. On Direct Writing)

CHAPTER III. ECTOPLASMS (MATERIALIZATIONS)

(a. On Fraud in Ectoplasmic Experiments; b. Leading Ectoplasmic Experiments)

CHAPTER IV. LEVITATIONS

CHAPTER V. BILOCATIONS

(a. Objective Bilocations; b. Monitions of Approach)

CHAPTER VI. HAUNTINGS

(1. On Hauntings in General; 2. On the Hauntings of Houses (Subjective); 3. Telekinesis in Haunted Houses; 4. Conclusions)

BOOK IV: CONCLUSION




References



Bozzano, E. (1922). Considerazioni intorno al "Traité de Métapsychique" del Prof. Charles Richet. Luce e Ombra, 22, 103–115.

Lodge, O. (1923). A textbook of metapsychics: Review and critique. Proceedings of the Society for Psychical Research, 34, 70–106.

Mémoires et communications des membres et des correspondants de l'Academie. Compte rendu hebdomadaires des séances de l'Académie des Sciences, 174, 430–431.

Richet, C. (1922). Traité de métapsychique. Paris: Félix Alcan.

Richet, C. (1923). Thirty Years of Psychical Research. New York: Macmillan. (Translated from the second French edition)